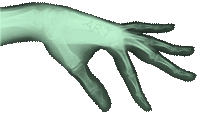 ---
When I bought my oven for my new apartment after nearly 2 years with a broken oven (only the range worked), I was very excited and
a friend told me to draw a picture of it. Eventually, I decided to make the sketch into a more formal (ha) painting of it. 2009.
Ingredients: craft paint, crappy brushes, professionalism, somberness, quadskatephilia, sharpies. Full-size it is less than 6" long.
---
I went to a feminist art night where I thought we'd be given a theme, but instead they just said "go" - this is the result. 2009.
Skin & tattoos & wanting (or taking) things
Ingredients: magazine pictures, ink, rubber cement, copious time.



---
R.P.Inc.

Frontal view, click to see bigger.

Side view, click to see bigger.


Close-up view, click to expand (a little overexposed).
This is my college diploma that I unearthed from storage & I decided to make it more representative of my college experience. 2008.
Ingredients: magazine pictures, disillusionment, rubber cement, army man, blue gel, expended youth, ink, calculator parts, epoxy & too much f'n money.



---
My cousin is an amazing artist and I'm always bugging her to do more art & so she did an ultra-fabulous painting of me for my birthday,
so I decided to do my own collage portrait of her for her birthday (thus getting me back into art-making too) - this is it. 2008.
Materials: magazine/book pictures (mostly from a day in the life of the soviet union), rubber cement, epoxy, rubber/plastic snakes, marker/pen.
Technology is a double-edged blade that makes our lives easier, but also disconnects us from ourselves and from nature.
Technology may help us grow as a species, but some of that growth is "apart." 2005.
Materials: acrylic paint (my first painting!), magazine pictures, steel wire, nails, wood, circuit wire, epoxy.
---
Transgender is a seesaw between monstrosity and invisibility; people either hate you or can't admit that you exist. This is a photo-montage of gender outlaw images built into a mannequin/sculpture. Skirt is based on a newspaper article entitled "Slaying of transgender teen haunts city". Click

HERE

to see more pictures/info. 2003.

Materials:

mannequin torso, paint, photo-stickers, napkin, food-coloring, nail-polish, wire.
---
Presentation is everything in U. S. consumer culture: it's all about putting on a happy face and stylish clothes while advertising promotes the worst insecurities and fears, all in the name of the sacred sale. For those who get run down, feeling desperate, there is a cure - drugs! Totally legal and irrepresibly marketable biochemistry modification devices. Load up on pills and you're ready to go. Side effects may include: cloudy thoughts, muted emotions, sexual disinterest, itching, lesions, nausea and suicide. 2002.
Materials: plastic doll, marker, paint, wire, prescription anti-depressants, pill bottle, mirror shards, razorblade.


---
This was a collage begun during an art party on New Year's Eve 1999-2000 (with finishing touches a month or so later), representative of the state of the world and my mind at the time. Prominantly features pictures of me and my two closest friends at the time (digital photos taken, altered and printed), but also appropriated mages, paint, shiny/patterned paper, razor blades, metal bits, fabric, chain, rubber snake and even a bit of my own blue hair. 2 feet high by 4 feet wide.


I taught myself how to make chainmail in 1998 (from a metalsmithing book I'd had from a class in college). I made it from scratch with wire and a metal dowel (wrapping and cutting the links by hand), but I never did learn how to use a soldering iron (my links were not sealed, but since I used steel, they stayed closed pretty well). Since it took so long to make, I didn't make many things, but I made a 4" by 4" square, the bracelet in the picture (which I still wear), started a gauntlet and made an impressive elaborate belt which unfortunately I didn't get any pictures of before I gave it away (birthday present to a girlfriend just before a nasty breakup).
---
I gave this sculpture away and only have a few so-so photos from an art show it was in (it looked more impressive from the top than from the side). It was almost 4 feet wide at the widest point and about 2 and a half feet tall and contained two spiders (one of wax, the other of wire), a metal bat and two pairs of antique eyeglasses. My motivations were pretty abstract at the time, thinking mostly of tangled memories (including having bad vision) and just looking for a better aesthetic and way to free myself from the past. 1997.
Materials: broken fencing blades (spokes), chain, wire, eyeglasses, wax, sheet metal (aluminum).
---
Container made to represent the object contained (from metal-smithing class). 1996.
All parts (except razor blade inside) were made solely by me from sheet metal, wire and solder.
---